Minnesota Rx Assistance Programs
MinnesotaCare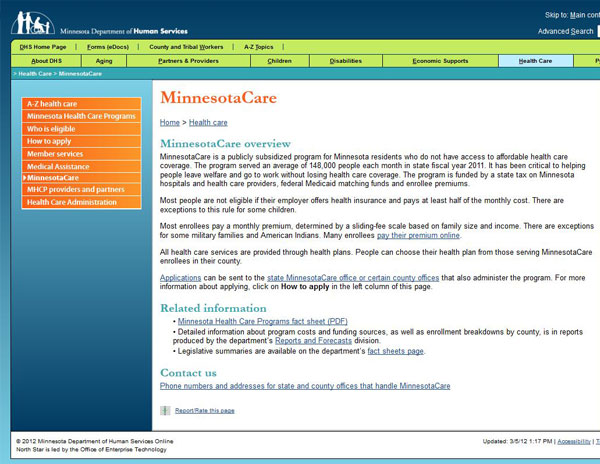 Cost
free or at a reduced cost
Eligibility Requirements:
To qualify, you must: Have a Social Security number or be willing to apply for one (unless you have religious objections) Live in Minnesota. If you are an adult and do not have children living with you, or if your children are over age 21, you must have lived in Minnesota for six months. Be a U.S. citizen or non-citizen lawfully residing in the U.S. Not have other health insurance now or have had health insurance (including Medicare), for at least four months except for Medical Assistance enrollees whose health insurance premium was paid for by Medical Assistance. Not be able to get health insurance through an employer who offers to pay at least half the monthly cost. Some children may be eligible if they have health insurance. A MinnesotaCare enrollment representative will review your application and tell you if your insured children qualify.
Phone Number:
(800) 657-3672
Description:
MinnesotaCare is a publicly subsidized program for Minnesota residents who do not have access to affordable health care coverage. The program serves an average of more than 100,000 people each month. It has been critical to Minnesota's welfare reform strategy, helping people leave welfare and go to work without losing health care coverage.
Minnesota Drug Card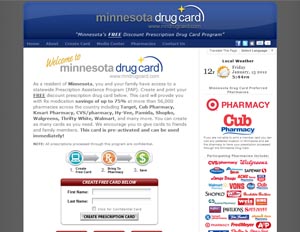 Cost
No cost.
Eligibility Requirements:
The program is open to all residents of the state of Minnesota.
Phone Number:
(612) 547-8114
Description:
Minnesota Drug Card is the free statewide prescription assistance program available to all Minnesota residents. The program was launched in October of 2008 to help uninsured and underinsured Minnesota residents with their prescription medication costs. Minnesota residents with insurance can also utilize the program for their non-covered medications.
Minnesota Drug Card teamed up with the Minneapolis Regional Chamber of Commerce shortly after the program's launch to help educate and spread awareness about the program. Minnesota Drug Card also works with Minnesota Academy of Physicians Assistants (MAPA), as well as many other hospitals and clinics to expand card distribution sites throughout the state.
The free program provides savings as high as 80% on brand and generic medications. There are no restrictions or eligibility requirements for the program. Minnesota Drug Card is completely confidential and all cards are pre-activated, ready for use and do not expire. This Program is not insurance.
With the rising cost of healthcare, the Minnesota Drug Card provides a simple solution to the high prices of prescription medications. Residents can print a free pre-activated card, locate participating pharmacies, and search drug pricing by visiting www.mndrugcard.com.
Minnesota State Health Insurance Assistance Program
Minnesota AIDS Drug Assistance Program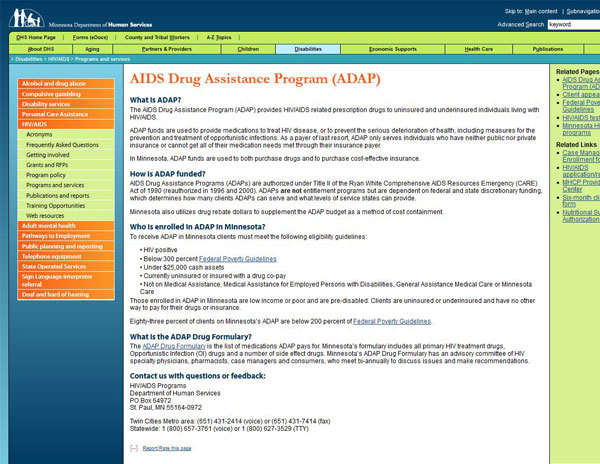 Cost
No cost.
Eligibility Requirements:
must be HIV+ - income must be at or below 300% of the Federal Poverty Level - liquid assets must be less than $25,000 (not including home and car) - must be a A resident of Minnesota or St. Croix or Pierce counties in Wisconsin - must be uninsured or insured with less than or equal to 20% of drug cost or drug copay - must not be on Medical Assistance, General Assistance Medical Care or MinnesotaCar.
Phone Number:
(800) 657-3761